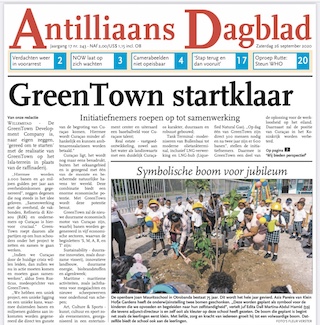 Antilliaans Dagblad,
26 September 2020
GreenTown ready to start
GreenTown is ready to start and is calling for collaboration.
GreenTown generates 2,000 jobs and 40 million guilders per year in land income
The GreenTown Development Company is ready to start the realization of GreenTown on the Isla site instead of the refinery. This generates 2,000 jobs and 40 million guilders per year in government income. Collaboration with the government, the unions, RdK and entrepreneurs in Curaçao is crucial for this. GreenTown therefore calls on all parties to put their weight behind the project and start working together.
"If we want to lead Curaçao through the current crisis, we will have to take action now and start working together," said Sven Rusticus, co-founder of GreenTown.
"We have a unique project, a unique location and a unique opportunity, generating thousands of jobs and millions of guilders in income that directly benefit the budget of Curaçao. This makes Curaçao less dependent and civil servants' salaries can be paid. "
Curaçao is outside the hurricane zone and is blessed with one of the most beautiful and protected natural harbors in the world. This combination offers enormous economic potential. This potential is exploited with GreenTown. GreenTown will be Curaçao's new sustainable economic engine, generating jobs in five economic sectors, the initials of which are S, M, A, R, and T:
Sustainability - Sustainable innovations, such as sustainable fishing, innovative agriculture, sustainable energy, biofuels and algae cultivation

Maritime - Maritime activities, such as marinas for mega yachts and new shipyards for ship maintenance

Art, Culture & Sports - Art, culture and sports such as events organized in an entertainment center and of course a baseball field for Curaçao talent

Real estate - Real estate development both on the water and inland with a clear Curaçao character, built in a durable and robust manner

Tank Terminal - Modernize Bullenbaai into a modern oil tank terminal, including LNG processing and LNG hub
On day one of GreenTown, 300 people are immediately needed and after two years there are 600 jobs. This makes GreenTown part of the solution to unemployment on the island.
In addition, the position of Curaçao in the Kingdom will be improved. "GreenTown offers a perspective for a sustainable future that stimulates cooperation within the Kingdom," said Marc Arnold, former head of Kingdom Relations on Sint Maarten and co-founder of the GreenTown Development Company. "GreenTown creates great opportunities and everyone is invited to think and participate."
GreenTown strives for connection and cooperation with all concerned now that the country is hit by the Corona crisis. "We will diversify our economy with GreenTown and will therefore be more resistant to future economic setbacks," said Ronald van Sluisveld, metal and shipbuilding entrepreneur in the Netherlands and Curaçao and co-founder of the GreenTown Development Company.
GreenTown will transform the sites of the Isla refinery and the asphalt lake and strengthen the oil industry in Curaçao by modernizing the oil tank terminal on Bullenbaai and making it suitable for the storage and processing of Liquified Natural Gas (LNG). GreenTown has an experienced partner for this modernization. Contrary to popular belief, the oil industry within GreenTown will therefore not disappear but will be modernized. With this, GreenTown offers job prospects to many people in Curaçao, including employees of the refinery who have recently lost or are at risk of losing their job.
GreenTown also offers prospects to young Curaçaoans who have followed a training abroad, are still staying there, but would like to return to Curaçao to contribute to her native country. There are currently no suitable jobs in Curaçao for these young people. Within GreenTown these jobs are created with which we bring them back.
GreenTown is supported by the European Investment Bank (see attachment) and has investors from the United States and Europe. GreenTown also has an extensive network of partners, entrepreneurs and developers who will invest in Curaçao and thereby contribute to the growth of the economy and employment in Curaçao.
One of the investors is Edgewater Resources specialized in the development of marinas for mega yachts. Mega yachts spend an average of $ 2 million per year in their home port and employ more than 40 people. Twenty mega yachts in Curaçao therefore mean 800 jobs. The Schottegat - the sheltered hole - is very suitable for mega yachts. That is why there is a lot of interest from foreign investors. Attached the Letter of Interest from Edgewater Resources.
About the GreenTown Development Company (GDC)
The GreenTown Development Company is the area development company, based on the vision of the GreenTown Foundation, with the objective of realizing sustainable economic growth in Curaçao.
GDC was started by Ronald van Sluisveld, Marc Arnold and Sven Rusticus. Van Sluisveld is an entrepreneur in the Netherlands and Curaçao in the metal and shipbuilding sector, Arnold is an advisor on the sustainable development of small island states and resilience in urban areas and former head of Kingdom Relations on St. Maarten and Rusticus is an international internet entrepreneur in marketing and printing and co-founder of the Foundation GreenTown Curaçao.
The team is assisted by Nasha Desbarida, Orlando Meulens, Bouke Vellinga, Marc Numann, Lex Veerkamp, ​​Harm Rooijakkers, Vincent Stens, Bram Reinders and Professor Jan Rotmans.
For more information:
Sven Rusticus sven.rusticus@gmail.com +31 6 21 86 43 25
Orlando Meulens orlandomeulens@gmail.com +31 6 17 14 86 25 (papiamentu)
Back